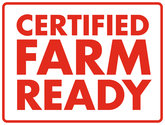 Certified Farm Ready is Heritage Seeds' new quality assurance
program designed to take the guess work out of selecting a
variety that is going to be farm-ready for planting in your local
area. Every year Heritage Seeds invests in excess of $2
million in the development and testing of new varieties, ensuring
that the Certified Farm Ready varieties are ready to plant,
backed up by significant Australian in-field trial work.
If you purchase a Certified Farm Ready variety, you can have the confidence that it is of the highest quality breeding, has been rigorously evaluated to perform under Australian conditions, maintained under the strictest quality parameters and is 'farm-ready' to plant for the best results. Only the best Heritage Seeds varieties
earn the Certified Farm Ready stamp by meeting the following criteria:
Performance Tested: In-field performance tested through extensive evaluation across a number of replicated in-field trials, over multiple years to show market leading performance for the species.
Plant Breeder Rights (PBR): Plant Breeder Rights have been accepted for the variety through the use of industry best-practice breeding protocols, meaning the variety is distinguishable and the plant's genetics are uniform and stable.
Seed Certification: The seed is Certified Seed, meaning it's 'true to type' so that its genetic purity is strictly controlled and maintained by independent registered certification bodies.
Seed Quality: Seed quality has been maintained under very high quality control parameters, including regular germination testing and contaminant screening to ensure high levels of purity and germination when sowing.
To learn more about our extensive testing and evaluation of Certified Farm Ready varieties in your area, as well as local farmer success stories, please visit our interactive CFR map located at www.pasturewatch.com.au