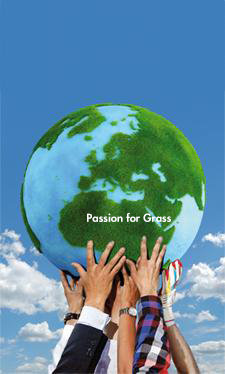 We specialize in plant breeding, seed production and the international marketing of seeds for turf, forage grass and legumes. Founded in 1904, our company stands for top quality that is appreciated by customers both large and small, throughout the world. We have a turnover of €255 million, with 29 subsidiaries in 18 countries on six continents, making us one of the biggest companies in our field. A fact we value more highly is that we have a passion for grass that we share with our customers and growers; this is something that four generations of the Barenbrug family have shared through to the present day.
Our position in the grass seed market has been achieved not just by putting our craftsmanship into practice. It is a role that we have built up and cultivated over the years. We would never have come this far without the long-term relationships with our customers and seed growers, or without our alliances with key universities and institutes. We would never have made it this far without a continuous focus on innovation, quality and solutions for local markets. And definitely not without the loyalty, efforts and knowledge of all our own dedicated staff.

The basis for our success is captured in the five core values: International, Innovation, Quality, Partnership and Marketing. They are fairly simple concepts that sometimes seem to be more or less obvious. The combination of these key elements, however, is far from obvious, as we will show you in this section of our website.