Energy, opportunity excites new Heritage Seeds Sales Manager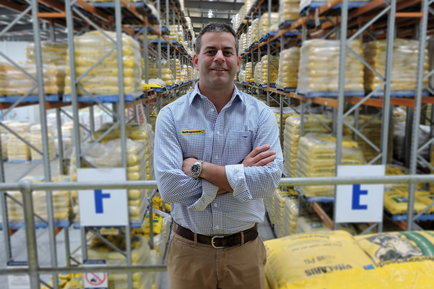 AFTER more than 25 years experience across the agricultural chemical, machinery and wool sectors, Toby Brown is excited about the new opportunities presented within the pasture seeds and fodder crop industry, combined with the energy of the team he has joined at Heritage Seeds.
Toby worked with Fox & Lillie in the wool industry before starting with Nufarm in its Croplands Equipment business as a Territory Manager for Victoria and Tasmania during a time when self-propelled sprayers were being introduced.
He rose through the ranks at Nufarm in marketing and other roles and was Country Manager in the UK for three years after managing its commercial business in Africa and the Middle East, together with its non-crop business in Europe, based from Germany.
More recently, Toby worked in the company's industrial sales and its partnership with Farmers Edge, which provides precision digital solutions to help guide farm management decisions.

He said he was excited by the new challenge as National Sales Manager with Heritage Seeds and the growth opportunities for the business.
"Ag chem has seen many challenges in recent years, whereas greater proprietary positions exist in the seed industry,'' Toby said.
Heritage Seeds is a member of the Barenbrug Group and Toby said it was encouraging the Netherlands-based company had recently returned to 100 per cent family ownership.
"There has been some consolidation in the industry and Barenbrug has an independent position and a very strong brand, team and product portfolio, which positions the company well for future growth.''
He said the scheduled opening of Heritage Seeds' new $15 million world-class facility at Toowoomba in Queensland later this year was another positive development and testament to the ongoing investment by the Barenbrug Group in Australian agriculture over the last three decades.
"It will provide a capacity increase for customers and excellent ability to increase sales, which is exciting.''
Toby said Heritage Seeds was conducting collaborative R&D work with several organisations. Its R&D sites, including at Howlong in Southern New South Wales, allow a great opportunity for the company to be more technically focused and to share this knowledge with customers and the industry.
Heritage Seeds has technical agronomy partnerships with AgriBio in Victoria, the South Australian Research and Development Institute (SARDI) and Queensland Department of Agriculture and Fisheries, among others.
"There are many opportunities and strong indications that industry organisations want to partner with Heritage Seeds, which is very promising,'' Toby said.
He said expansion of the northern Australian agricultural industry, including intensifying irrigation across northern Australia, was another exciting future opportunity.
Toby said he was delighted to be joining Heritage Seeds and meeting the team across the country, including the international sales group, during one of the busiest times of the year for the industry and was eager to catch up with customers in coming months.