Download a copy of the HM-114 Corn factsheet.
Introduced in 2013, HM-114 is the quickest maturity of the first commercial corn hybrids released by Heritage Seeds. Over a number of seasons, it has proven to be a very high yielding option that appears well suited to numerous corn growing environments. It is a high yielding conventional corn hybrid, offering excellent grain and silage yields. HM-114 offers an attractive package of very good standability, good grain quality, high stress tolerance, very good cob rot resistance and tight husk cover. It appears to be very well suited to both feed grain and silage production.
Pest Resistance
Soil borne insect pests like wireworm can affect emerging corn stands, however the adoption of seed treatments including an insecticide (e.g. Cruiser® or Gaucho®) is likely to address any potential concerns.
Variety Management/Agronomy
HM-114 doesn't require any varietal specific management considerations, however when considering broader management requirements, please consult agronomists from State Government Departments of Agriculture or experienced commercial agronomists / consultants in the relevant growing areas.
Disease Resistance/Tolerance
HM-114 has been evaluated for resistance to turcica leaf blight (Exserohilum turcicum), common rust (Puccinia sorghi) and cob rot – please note ratings in Table 1, which also includes a rating for husk cover:

For further identification and management of other diseases, please consult agronomists from state government departments or experienced commercial agronomists / consultants in the relevant growing areas.
Performance
Over a number of seasons, HM-114 has been evaluated in numerous corn growing environments in Darling Downs (QLD), Border Rivers (QLD / NSW), Liverpool Plains (NSW) and the Riverina / MIA (NSW) and has been compared with a number of well-regarded competitor hybrids like PAC 606, 32P55 and Olympiad. HM-114 offers tremendous yield potential when compared to competitor lines of a similar maturity – the yield comparisons at these sites were collected either with a weigh bin or with calibrated yield monitors.
Excellent feed grain and silage yields thus far would indicate HM-114 is very well suited to areas from South East Queensland to the Riverina / MIA region of Southern NSW and into Victoria.
Plant Population
Even though target plant populations vary with conditions and regions, the uniformity of the established plant population is critically important when growing corn. Near perfect uniformity of plant population in the row can ensure maximum yield potential can be captured.
Please note table 2 for suggested established populations for HM-114 under dryland and irrigated situations in a number of regions: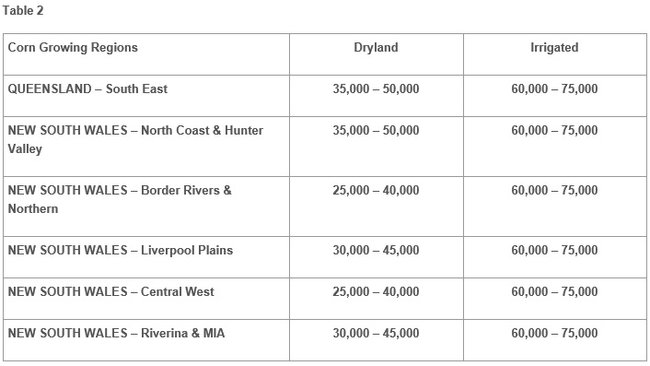 Seed Treatments
Available with OptiCOTE seed treatment (Vitavax fungicide + Gaucho® insecticide).
Awaken or alternative seed treatments available upon request and firm order.
Gaucho® is a registered trademark of Bayer CropScience.