Bareno pasture brome is a standout permanent pasture for summer dry free draining soils. It is persistent, palatable high yielding and legume friendly. Bareno can be rotationally grazed or set stocked, and flowers 19 days later than Gala, with better late spring quality and summer growth. It is more flexible in its management and maintains palatability through all seasons.

Easy Management - Bareno is quite different to other bromes, and is more flexible in its management. It is more persistent than Matua prairie grass, and can tolerate both rotational grazing and set stocking.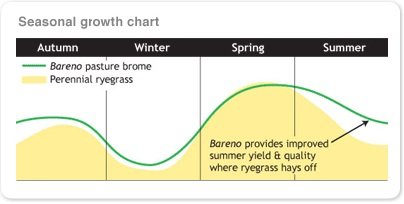 Highly Palatable - Arguably the best feature of Bareno is its palatability through all seasons:
It remains palatable, even when seed heads are present, and stays greener and leafier than ryegrass in summer.
Bareno supports a high legume content (40% sub and white clover measured in spring).
Sow Early - Brome grasses are slower to establish than ryegrass, so make sure to:
Sow when warm - spring or early autumn, soil temperature 12C+
Prepare good seedbed - cultivation is best. Direct drilling is not usually recommended. Seedbed must be well consolidated.
Sowing Rate: