Heritage Pursues Extraordinary Grasses
It may come as a surprise, but there are more than 8,000 species of grass in the world. Grass is almost everywhere! To many it seems ordinary, but when you look closer, it's anything but.
We need grass for all sorts of purposes and climates: tasty and healthy grass with a high nutritional value for animals; fine leaved and attractive green grass for lawns; low mowing grass for golf greens; strong and wear tolerant grass for sports and recreation fields; and of course tough wearing grass with good root structure for horse racing tracks.
Grass is indeed extraordinary and there is most likely no company in Australia with a deeper passion for premium grass and turf varieties than Heritage Seeds.
With its head office in Dandenong, Victoria, Heritage Seeds is one of Australia's largest seed companies. Heritage Seeds has more than 75 staff across the country and conducts its own research at company facilities near Howlong, New South Wales, Gatton Queensland, as well as many other regional sites. Specialising in plant breeding, seed production, marketing and sales, the company currently exports seed to international customers around the globe and is a member of the Royal Barenbrug Group.
Turf Portfolio Manager for Heritage Seeds, Matt Merrick, describes the close relationship between Heritage Seeds and Barenbrug as a dynamic and important partnership. It has resulted in the release in Australia of many market leading turf varieties.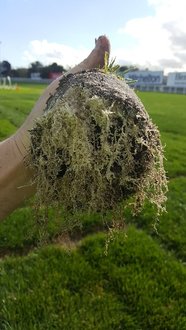 Recent exclusive innovations include:
*Regenerating perennial ryegrass (RPR). Reclassified as Lolium perenne stoloniferu, RPR offers traits other ryegrass' simply don't have.
This technology is extremely exciting. Breeding efforts with RPR are ongoing.

*Superior racetrack grasses. In recent times, Heritage Seeds has introduced Bealey, Rohan and RPR perennial ryegrasses to the racetrack industry with outstanding results.


*AgriCOTE Bentgrasses like Pure Distinction, which offers a superior putting green surface that impresses world professionals and restricts Poa annua invasion.


*Rhizomatous Tall Fescue (RTF) - a unique tall fescue that produces rhizomes. RTF is a patented grass that is distinctive from any other turf fescue in its ability to self-repair the turf.
Above: Heritage Seeds ryegrasses exhibit strong root structure

Mr Merrick explained, The Royal Barenbrug Group is a global phenomenon that specialises in plant breeding, seed production and the international marketing of seeds for turf and other markets. Being able to tap into this worldwide breeding effort enables Heritage Seeds to access world class genetics, varietal traits and species that may normally be inaccessible.
Barenbrug's roots go way back to 1904. It now has 29 subsidiaries in 18 countries over six continents. It is without doubt one of the biggest companies of its type in the world. "Heritage Seeds and Barenbrug have a passion for grass," Mr Merrick said. "We share that passion with our customers and would never have come this far without the long-term relationships we have with both our clients and seed growers.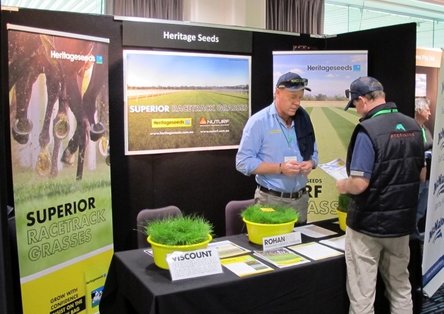 Matt Merrick, explaining the features and benefits of the Bealey, Rohan and RPR ryegrasses at the combined ARMA and NZRMA conference in Auckland.
"Being part of The Royal Barenbrug Group, which includes Agriseeds in New Zealand, puts Heritage Seeds at the very forefront of turf market research and development, especially in racetrack grasses for Australia and New Zealand. "Plant breeding and continual innovation is the cornerstone of our business and our brands," he said.
Heritage Seeds has partnerships with distributors, which allows the company to distribute all over Australia and New Zealand, and put more time and resources into developing a range of varieties, including tough wearing grasses with good root structure for horse racing.
For more information on the Heritage Seeds turf range, Matt Merrick can be contacted on M: 0413 442 811 or mmerrick@heritageseeds.com.au.